Doctors pushing patient on gurney down hospital corridor
Comprehensive Stroke Center Certification
Trusted industry leader certifying 75 percent of all Comprehensive Stroke Centers.
Contact the Certification Team
Excel in Stroke Care
This program is the most demanding stroke certification and is designed for those hospitals that have specific abilities to receive and treat the most complex stroke cases.
Benefits
The top 10 reasons to pursue CSC certification:
Designation for excellence in the care of stroke patients
Creates a loyal, cohesive clinical team
Assists organizations in establishing a consistent approach to care, reducing variation and the risk of error
Demonstrates commitment to a higher standard of clinical service
Provides a framework to improve patient outcomes
Helps to organize teams across the continuum of care
Provides a competitive edge in the marketplace — supports marketing, contracting and reimbursement
Enhances the facility's ability to attract top-level talent
Strengthens community confidence in the quality and safety of care, treatment and services
Potential to increase patient volumes due to EMS routing protocols
Deliver on your Patient Care Promise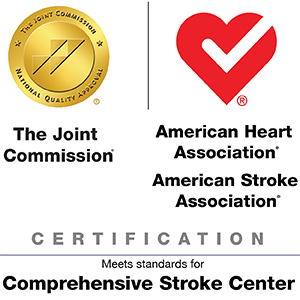 Offered in collaboration with the American Heart Association/American Stroke Association achieving Comprehensive Stroke Center (CSC) Certification means you're dedicated to raising the bar for your organization's performance — evaluating and evolving the care your patients receive at every touch point in your stroke care continuum. This patient-centric approach is better for your patients, their families and your program. CSC is the highest level of certification for hospitals with specific abilities to receive and treat the most complex stroke cases.
Performance Measurement
Joint Commission-certified CSCs and organizations seeking initial certification are required to adopt a set of standardized performance measures. Organizations collect monthly data for each measure in the set. The data is then submitted quarterly to The Joint Commission.
Resources to Help You Get Started
Explore the standards, get checklists, tips and access the review process guide.