Speak Up Infant and Children's Health
At the doctor's office, you may be told a C-section is a possibility. If the baby is in distress, is in the wrong position, or there are other complications, being prepared will help make you feel more in control.
This animated Speak Up™ video is especially for children going to the hospital. Marco, as Captain Speak Up, helps em"power" Cara, so she feels confident asking her doctor questions. "Speak Up: Kid Power!" emphasizes that children have the right to ask questions and voice their concerns if they don't understand something.
Prevent Errors in Your Child's Care
Your child's health and safety are important to doctors, nurses, and other caregivers. You can make a difference in your child's care by asking the right questions and being actively involved.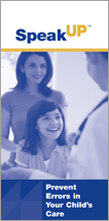 What You Need to Know About Breastfeeding
Breastfeeding is natural for you and your baby, but it is a skill that needs to be learned. Speak up and ask questions about breastfeeding before your baby is born and while you are in the hospital. This will help you continue to breastfeed after you go home.
Stay Well and Keep Others Well (a coloring book for children)
Speak Up is The Joint Commission's award-winning patient safety program. "Stay Well and Keep Others Well" is a special Speak Up brochure for kids to learn and color.