Speak Up Disease Care
Diabetes - Five Ways to be Active in Your Care at the Hospital
Living with diabetes can make you good at managing the ups and downs of the disease.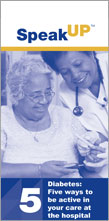 Dialysis - Five Ways to be Active in Your Care at the Hospital
As a dialysis patient, you have a routine. You go to a dialysis center for dialysis or perform your own dialysis at home. You are actively involved in the daily care of your condition. This should not change when you go to the hospital. You will need to work closely with your hospital caregivers to get the best care. Speak up and let your caregivers know exactly what you need.