Surgical doctor looking at x-ray film of hip.
Aligning Performance with Preference
As the volume of orthopedic surgeries increase in the next decade so too does your competition. Joint Commission Advanced Certification for Total Hip and Knee Replacement (THKR) helps elevate your services with the evidence-based proof of clinical quality sought by patients and payors alike.
A Level of Care That Sets You Apart
This Advanced Certification program helps health care organizations develop consistent communication and collaboration among all health care providers involved in the care of the patient — from the pre-surgical orthopedic consultation with their surgeon to the intraoperative, hospitalization or ASC admission, rehabilitation activities and then the follow-up visit with the orthopedic surgeon.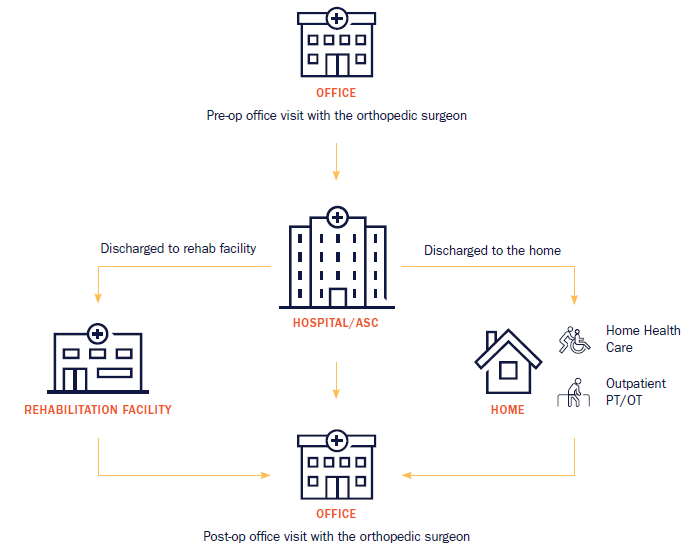 What Advanced Certification Means to You
This certification goes beyond core certification.
Prescriptive Approach: Advanced certification standards offer a relevant, prescriptive approach
Meaningful Metrics: Our standards and performance measures are specific to total hip and knee replacement while allowing flexibility

in which clinical practice guidelines you follow

Expanded Scope: Advanced certification encompasses the entire continuum of care
Professional Collaboration: The only certification offered in collaboration with the American Academy of Orthopaedic Surgeons
What it Takes to be Certified
Key characteristics of the program:
Program has served a minimum of 10 patients
Use of standardized clinical care delivery based on evidence-based care and clinical practice guidelines
Data collection and performance measurement data
Participate in the American Joint Replacement Registry (AJRR)
View AJRR annual report
Performance Measurement
Joint Commission-certified programs and organizations seeking initial certification are required to adopt a set of standardized performance measures. Organizations collect monthly data for each measure in the set. The data is then submitted quarterly to The Joint Commission.
Resources
The following resources will help you get started.
AAOS Collaboration
The premier certification for Advanced Total Hip and Knee Replacement elevates your organization for improved patient care. The Joint Commission offers this certification in collaboration with the AAOS and the American Joint Replacement Registry (AJRR).