Ernest Amory Codman Award
The Ernest Amory Codman® Award recognizes Joint Commission-accredited or certified health care organizations who demonstrate excellence in the field of standards and practices.
Named for the physician regarded in health care as the "father of outcomes measurement," the Ernest Amory Codman Award was created in 1996 to showcase the effective use of performance measures, thereby enhancing knowledge and encouraging the use of performance measurement to improve the quality and safety of health care.
The Ernest Amory Codman Award program additionally recognizes an individual who has played a significant leadership role in promoting the use of performance measures to improve health care services, or who has made major contributions to the development and testing of performance measures or the science and art of quality improvement. The Ernest Amory Codman Award Evaluation Committee oversees the review process for the individual award.
The program is currently on hiatus. The Joint Commission is reviewing the application, evaluation processes and program requirements to ensure the recognition remains relevant within the evolving healthcare landscape.
Ernest Amory Codman Award Categories include:
Ambulatory Care
Behavioral Health Care
Home Care (Includes Home Health, Personal Care and Support Services, Infusion Therapy, Home Medical Equipment, and Hospice Care)
Hospitals
Laboratories
Long Term Care
Multiple Organization Team (Composed of multiple Joint Commission accredited organizations that work collaboratively on a single performance improvement initiative).
Disease-Specific Care Certification
Previous organizational and individual awardees have included: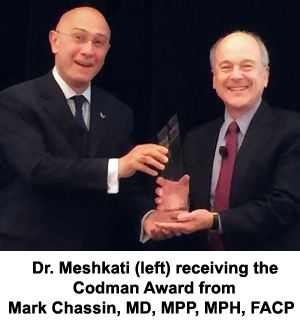 Carolinas Medical Center Charlotte, North Carolina
Cincinnati Children's Hospital Medical Center Cincinnati, Ohio
Mission Hospital Mission Viejo, California
Novant Health Winston-Salem, North Carolina
Najmedin (Najm) Meshkati, PhD
Shukri F. Khuri, M.D.