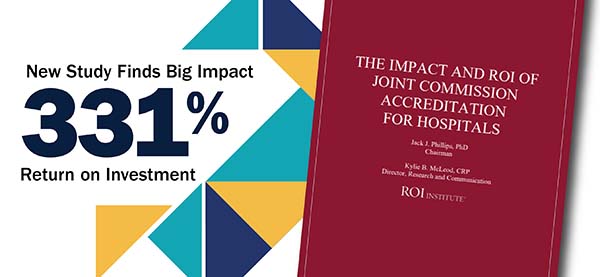 We call that a business case for quality.
When you choose Joint Commission accreditation for your hospital, not only are you choosing to meet the highest standards in the industry to validate and improve your quality of care, but you're also choosing a return on investment in ways that may surprise you.
A recent study of Joint Commission-accredited hospitals confirms our accreditation delivers an average lifetime ROI of 331%. That means for every dollar invested in accreditation, organizations saw that dollar returned plus $3.31 more.
Health care organizations across the continuum have long wondered what value they get from accreditation. That's why we invested time and resources to engage a third party to study the return on investment of accreditation for hospitals, ambulatory surgery centers, behavioral health care centers, home care agencies and nursing care centers to find a ROI ranging from 331%-638%.
From elements foundational to quality care like improved staff competency and retention, to increased revenue and reimbursement, Joint Commission accreditation has far-reaching impacts that can help you to meet your goals.
The findings reveal an average annual return per hospital in the sample of:
13

+ million
See for yourself and request access to the study today!