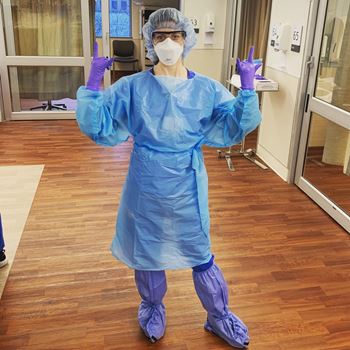 Liz Even, MSN, RN, CEN, associate director, Clinical Standards Interpretation Group
In addition to my role as a Joint Commission associate director of standards interpretation focused on ambulatory care, I still work as an emergency department nurse at a large, academic Level-One trauma center and have been picking up additional shifts at my hospital during this COVID-19 pandemic. I've spent 13 of my 15 years as a nurse in the emergency department.
That said, I've never experienced anything like the COVID-19 pandemic and I hope I never will again. To watch this virus bring our country and world to its knees has been humbling. We in health care – be it inpatient or ambulatory care settings – have prepared for such an event our entire careers, but even so, the uncertainty of our current situation is both unsettling and stressful.
Staff is without a doubt the most precious resource for any health care facility. Without staff, there is no patient care. It is important for your leaders to ensure that staff feel supported and protected during this unprecedented time when even veteran health care professionals express fear of going to work yet continue to show up putting their patients first. I'll share with you what I feel are three essential elements we must all provide during this time:
1. Education
Leaders need to ensure their staff are educated on the proper ways to care for COVID-19 patients. This includes everything from:
safe triage (i.e. non-face to face options)
contact precaution education
required personal protective equipment (PPE)
proper way to don and doff equipment (Watch this video for a demonstration.)
nasal swabbing techniques
2. Communication
Leaders need to ensure staff are kept up to date on pertinent information, process changes and upcoming happenings, as well as offer staff kudos and ways to maintain mental health during this time.
Staff need open, honest communication. If your organization is running low on masks, be honest and ask for innovative ideas on how to manage the problem. You may be surprised what staff come up with. At my organization, we get a daily COVID-19 e-mail providing updates on changes that have been implemented (e.g., now all staff and all patients must wear masks at all times), departmental changes, the numbers of people testing positive at our facility, current levels of critical equipment and supplies, etc.
Having a process in place where your staff may reach out with questions/concerns and know they'll receive a prompt response is imperative.
3. Support
In the past weeks, media reports have been released about young and previously healthy frontline healthcare staff who have become extremely sick with COVID-19 presumably due to the larger viral loads they are repeatedly exposed to in their daily work.
Managing Stress is Key
This is an extremely stressful time to be in health care and leaders have a responsibility to ensure they do as much as they can to support the mental health of their most precious resource. This can be done in a variety of ways depending on your organization. Some ideas may include:
flexible scheduling options
monitoring how much time each employee is caring for COVID-19 patients
providing transparent sick and return-to-work policies
limiting all non-essential emails/calls/staff requirements
At my organization, we've received resources from the city for free child and pet care, as well as free online resources to support mental health (yoga and meditation services, etc.). The Joint Commission also offers a wealth of COVID-19 resources, including several ambulatory care-specific items.
Every bit of support helps. This, too, shall pass. We'll get through this together… at least 6 feet apart!
Be well.
Elizabeth Even, MSN, RN, CEN, is associate director, Clinical Standards Interpretation Group, for The Joint Commission. She is also on staff in the emergency department at Northwestern Memorial Hospital. Prior to this position she managed the emergency department at Northwestern Memorial Hospital and was a clinical educator at Northwestern University Feinberg School of Medicine. She also has experience in home health and working as a nurse at Wrigley Field in Chicago.
---