Speak Up At the Doctor's Office
In this animated video, you'll meet Marge Popple, who learns why it's important to write down questions about her health, share a list of medications with the doctor, and fully understand everything that is explained during a visit to the doctor's office.
Understanding Your Doctors and Other Caregivers
It can be difficult to understand what your doctors and other caregivers are telling you about your care and treatment. This brochure has questions and answers to help you understand caregivers.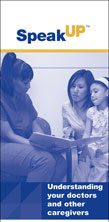 Tips for Your Doctor's Visit
Your visit to the doctor is your time to talk and learn about your health. Patients have a role in their health care, just like doctors, nurses, and other caregivers.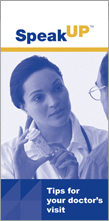 Help Prevent Medical Test Mistakes
Medical tests and laboratory tests are important aids for doctors. However, sometimes the wrong test is ordered. Or the test results can be misunderstood.