Background Image: Image: Rear view shot of hospital staff wheeling a patient in a gurney down a corridor
Acute Heart Attack Ready
Let this certification guide your ST-elevation myocardial infarction (STEMI) program toward improvement.
Contact the Certification Team
Elevate Your Heart Attack Care
This certification program will standardize and improve coordinated systems of care across settings regarding identification, assessment, monitoring, management, data sharing, and performance improvement for multidisciplinary STEMI heart attack care.
Benefits
Certification from The Joint Commission offers many opportunities to build and grow an outstanding heart attack program to impact patient care.
Demonstrate commitment to a high standard of service
Provide a framework to improve patient outcomes
Helps to organize teams across the continuum of care
Gain a competitive edge in the market
Enhance staff recruitment and development
Be recognized by insurers and other third parties
What it Takes to be Certified
Key Characteristics of the Acute Heart Attack Ready (AHAR) Program:
Focus on symptom onset and first medical contact, emergency medical services, the emergency department, as well as catheterization laboratories (if applicable) and inpatient settings.
Recommended for organizations without on-site primary PCI coverage 24 hours a day, 7 days a week. An AHAR hospital may transfer STEMI patients to a Primary Heart Attack Center for care.
Collaborating with the American Heart Association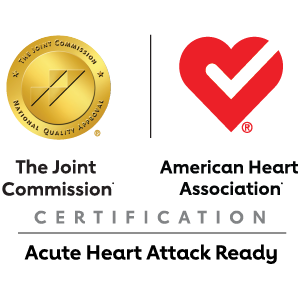 Offered in collaboration with the American Heart Association achieving certification means you're dedicated to providing cardiac care to your community. This patient-centric approach is better for your patients, their families and your program.
This site uses cookies and other tracking technologies to assist with navigation, providing feedback, analyzing your use of our products and services, assisting with our promotional and marketing efforts, and provide content from third parties. Get more information about cookies and how you can refuse them by clicking on the learn more button below. By not making a selection you will be agreeing to the use of our cookies.